Info Araiya-san!: Ore to Aitsu ga Onnayu de!?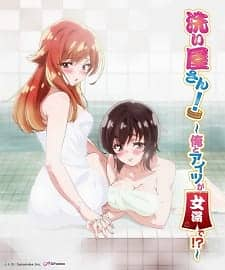 Sinopsis:
"Apakah ini benar-benar pijat …?" Souta mulai bekerja paruh waktu di sentou, yang merupakan kampung halamannya, sebagai tukang pijat, akhirnya dia memijat Aoi, yang merupakan teman sekelasnya tetapi berusaha menutupi identitasnya … Ketika ia memijatnya dengan hari-hari kebencian dari pelecehannya berlanjut , Dia menyadari bahwa Aoi telah mencintainya sepihak …! Ketika dia menyentuh kulitnya yang panas, Dia juga menyadari bahwa orang yang memijat dia adalah Souta. Sebuah komedi cinta antara pria dan gadis canggung di balik tirai merah!
Download Araiya-san! Ore to Aitsu ga Onnayu de! Episode 3 Subtitle Indonesia
Maaf jika link tidak bisa atau mati silahkan komentar atau pm di fanspage.